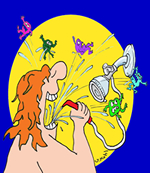 The Easy Way To Irrigate!
For those of you who love convenience (and multi-tasking), with no fuss and bother, you can do a superb job irrigating your teeth and gums in your shower. With this simple, sensible, and inexpensive tool you can spritz your mouth and your body at the same time. You may not be able to use your favorite irrigating solutions, but the ease and convenience will more than make up for that, especially for those of you who wouldn't be irrigating otherwise. And boy is this easy! 20 – 30 seconds more in the shower is all you need to literally flush away the germs from mouth to toes. If you want to irrigate a second time at your sink with your special solutions you can do that too for added effectiveness.
Irrigation is an essential part of your daily oral care program. It is a process that enables you to dilute, disperse, and eradicate harmful germs from your teeth and gums by forcing a pulsating jet of warm water between the teeth and gums. Dental irrigation flushes microorganisms from spaces other tools can't reach.
Mama Gums' Plaque Blaster
An Essential Tool For Oral Health!
It also:

Reduces inflammation and bleeding
Massages and toughens gum tissue
Flushes around orthodontic bands, brackets, wires and braces, crowns, implants, and bridgework
Reduces bad breath
Firms gums so they hug your teeth more tightly
Washes out food particles and toxins

. . . and feels great!




Go beyond what brushing and flossing alone can achieve!
Price $34.95
SPECIAL INTRODUCTORY PRICE
(Includes Sheila's new 20-page book-
Oral Health Made Simple, a $7.95 value)